Which replacement brush head do I need to buy?
Triple Bristle offers specific replacement brush heads for each toothbrush model we sell.
Please use the chart below as a guide to make sure you purchase the correct replacement brush heads for the toothbrush model you own.
For optimal results, be sure to replace your brush head every 90 days. Most of the Triple Bristle replacement heads have blue indicator bristles that fade over time, reminding its time to replace your brush head. We also offer an auto-ship option so you receive new brush heads when its time swap.
Buy your replacement brush heads > HERE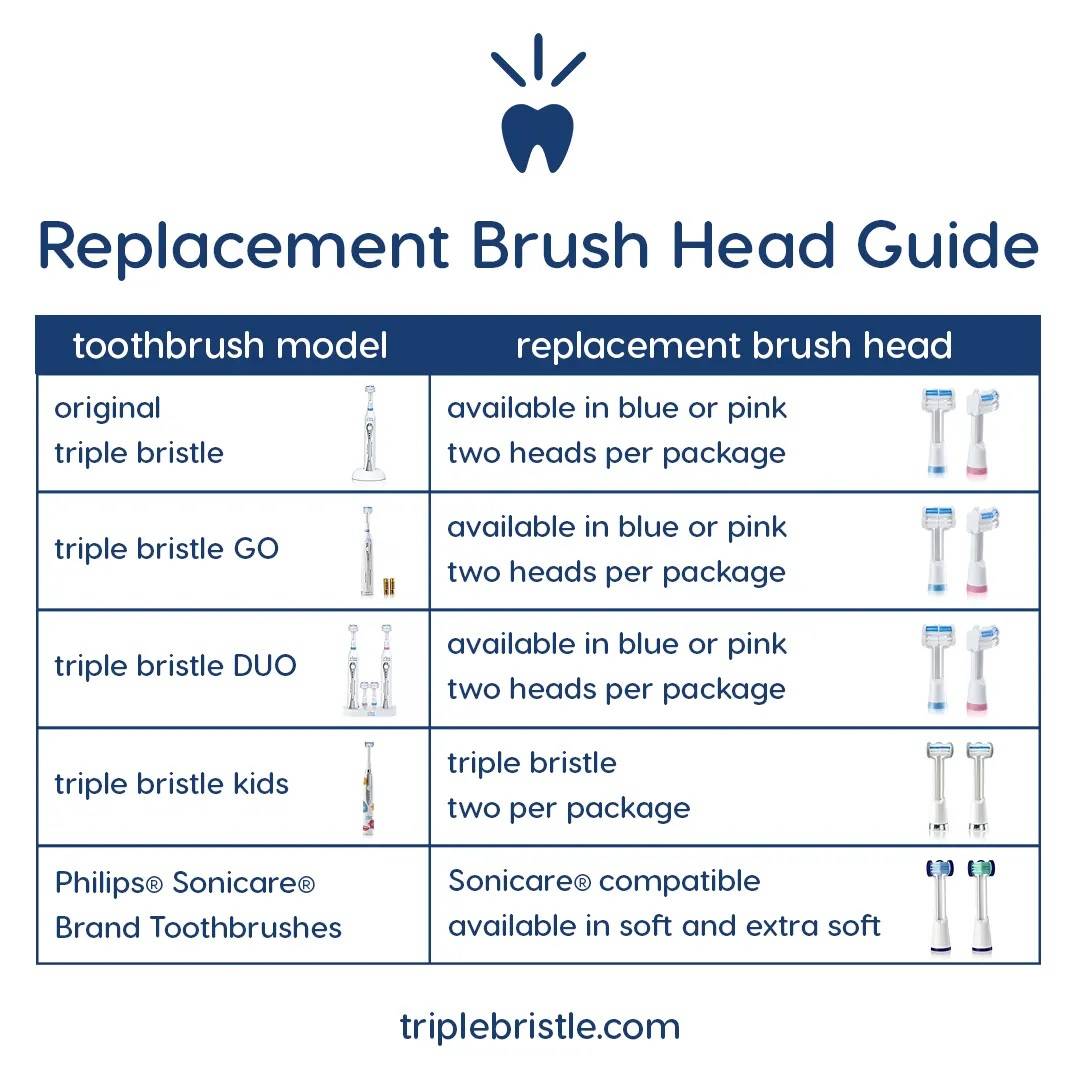 Where do I purchase replacement heads for my Triple Bristle toothbrush?
Replacement brush heads for all Triple Bristle toothbrush models are available here, free US shipping.
Please use the guide below to ensure you are purchasing the correct brush heads for your toothbrush.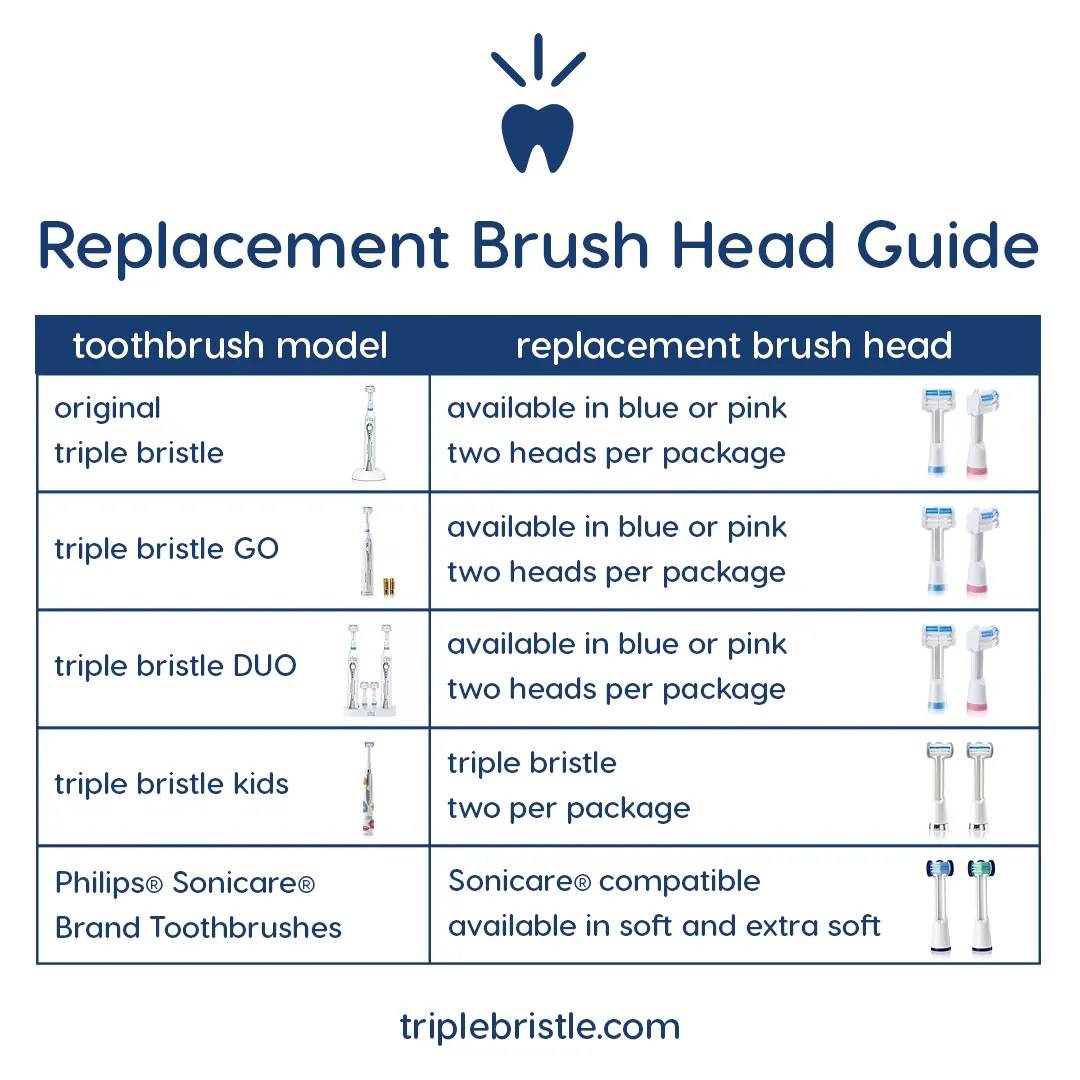 How often should I replace the brush head on my Triple Bristle?
We recommend replacing your brush head every 2-3 months or when the bristles begin to fray/fade, whichever comes first.
Also, always replace your brush head after you have been sick.
Has it been a while? Purchase replacement heads by clicking here.
I own a Sonicare® Brand Toothbrush, do you have compatible brush heads?
Yes, we do!
They are sold three per package. Available in soft or extra soft.
Compatible with the following Sonicare® brand models:
DiamondClean
Flexcare+ (PLUS)
HealthyWhite+
Series 2 Plaque Control
Series 3 Gum Health
EasyClean
Purchase the Sonicare® compatible replacement heads made by Triple Bristle, HERE.
NOT compatible with the Sonicare® Essence, Essence+ (Plus), or the PowerUp Battery models. If your replacement head has a large dome shaped base, the Triple Bristle heads will not fit.  
If you are not sure if the heads will fit your Sonicare® toothbrush, contact us and ask. No returns on opened replacement brush heads. 
What are the three brush modes of the Triple Bristle toothbrushes?
There are three cleaning modes on the Triple Bristle toothbrush sonic handle - High, Sensitive, and Massage.
For those who have never used an electric toothbrush before we recommend that you start by using the "Sensitive" mode for the first few weeks so that you can get used to the vibration.
Three Brushing Modes:
High (H) - Use this after two weeks or if you are used to a sonic toothbrush
Sensitive (S) - Start here, work your way up
Massage (M) - For those who prefer a pulsing vibration
How long do I charge my Triple Bristle toothbrush before I use it for the first time and how long will the charge last?
Charge your Triple Bristle Toothbrush handle for 24 hours prior to first use. A fully charged Triple Bristle toothbrush will keep a charge for approximately two weeks during normal use. For battery-operated Triple Bristle toothbrushes, you will know when to change the batteries when the vibration diminishes.
Where does the toothpaste go?
Put a pea size amount of your favorite toothpaste in the middle of the two bristles like so: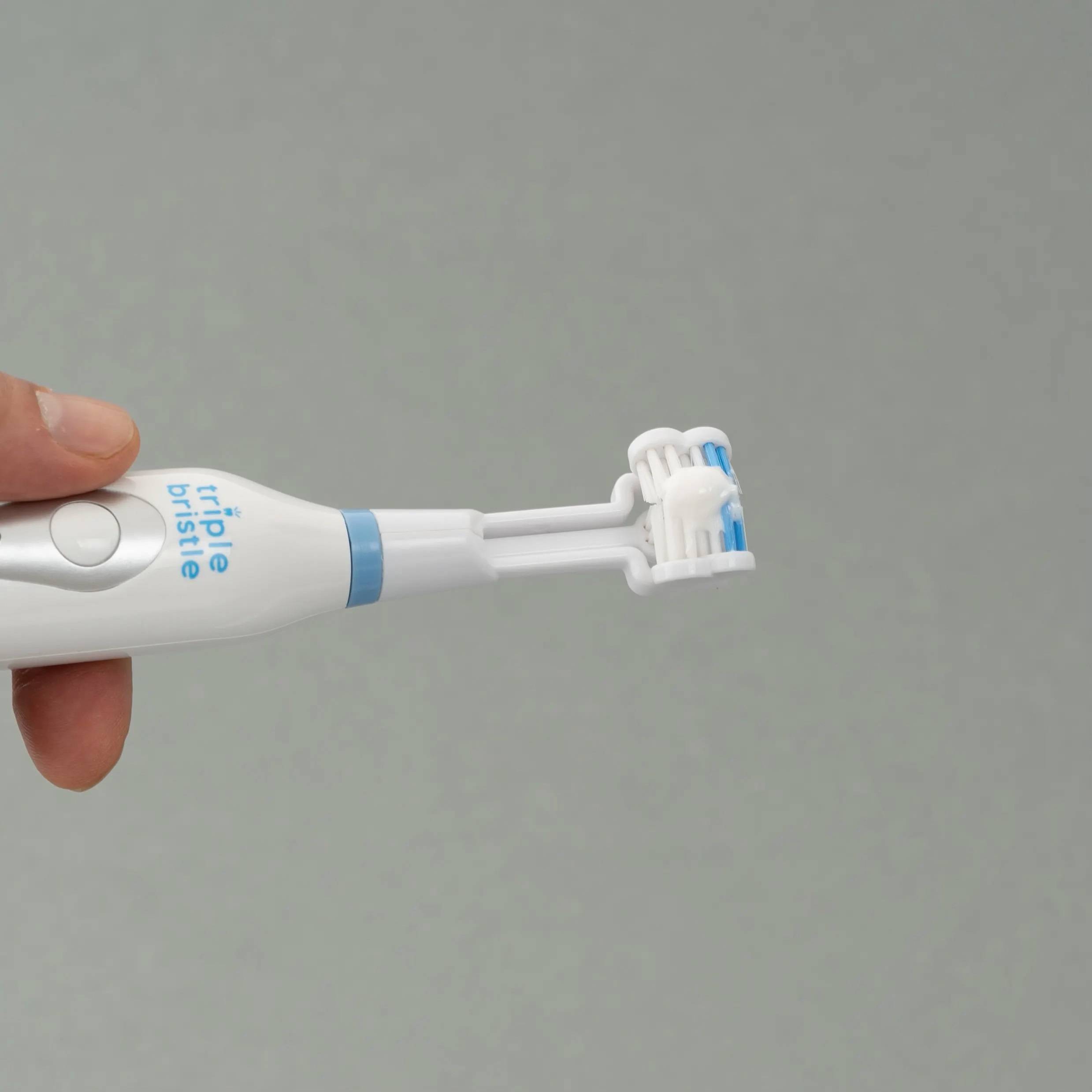 Are Triple Bristle toothbrushes safe for children?
The Triple Bristle Toothbrushes are recommended for children ages 6 and up. However, we do have a Triple Bristle kids model! You can find more information here.
How do I change or install the batteries in my Triple Bristle toothbrush handle?
Two AA batteries (included) are required for the Triple Bristle Go toothbrush model to vibrate.
Although there are instructions in the manual that show you how to change the batteries, we also have additional instructions, tip, images, and a video to help you.
Instructions:
Unlock the bottom by twisting counter-clockwise "Open/Install" position.
PULL (do not twist) off the bottom.
Insert 2 AA batteries (starting with the one on the left, put the positive side in first then on right side put the negative side in first, see image).
Firmly place the battery cover onto the handle and twist clockwise towards "Close" position.
Still having trouble? Watch the video with instructions here: 
https://youtu.be/dFR_le_nA10
Where do I login to my Triple Bristle account?
To access your Triple Bristle account, please click here.

If you have not created a Triple Bristle account, you will need to create your account using the SAME email address you used when you placed your order to be able to view your order history. Creating an account with Triple Bristle has it's benefits....we offer customer only discounts, no coupon code necessary.
Please Note: once your password is created, you will then have to verify your email address to gain access. An account activation email will be sent to you for verification.

Any questions along the way contact us.
Which shipping method and carrier do you use for shipping within the United States?
We ship using joint services from the US Post Office and UPS. Orders are shipped within 24 hours, given there are no issues with payment processing or it is not a weekend or Federal Holiday. You will receive an email from Triple Bristle with a tracking number once your order ships.
Do you ship internationally?
At this time we do not ship outside the Europe.
Where do I login to my Triple Bristle account?
Triple Bristle accepts a number of credit cards and online payment methods. Payment methods include Visa, MasterCard, American Express, PayPal, and more.
I just placed an order. What happens next?
Once your order has been processed, you will receive an email with tracking information. Please allow up to one business day (excluding weekends) for your order to be processed.
Once you receive your tracking number, please allow up to three business days for your package to show "In Transit" by the carrier. You will be able to check the status at least 24 hours prior to delivery.

At any point you can create a Triple Bristle account to obtain tracking information and have access to customer only discounts. Please make sure to use the SAME email you provided when you placed your order.
I placed an order but I'd like to change it. What do I do?
You can modify your order if it has not yet been processed or shipped.
To make changes to an order please email us at customerservice@triplebristle.co.uk or call us at 423-285-5985 (Monday - Friday, 9AM - 3PM EST) within 24 hours of placing your order.
What is the proper position to start brushing my teeth?
Brushing in quadrants is the most efficient and effective technique. To begin, gently slide the brush down onto your teeth until you feel the bristles engage your gums. Press the power button and slowly glide the brush along your teeth until you have covered all areas. The built-in two minute timer will pause letting you know when it's time to change positions.
How do I clean my Triple Bristle?
To clean your Triple Bristle toothbrush handle and charging base, use a warm damp cloth and gently wipe the external surfaces of the handle and charging base. Please do not use harsh cleaners, as they can damage the toothbrush. Be sure NOT to immerse the Triple Bristle handle or charging base in water. Avoid getting water on or near the plug.
Keep it fresh, rinse your brush head and bristles thoroughly after each use to remove any extra toothpaste that may still be on the bristles and/or plastic bristle base. Keeping your Triple Bristle clean and free from any toothpaste buildup will help when changing the brush head. To learn more about maintaining your Triple Bristle, please read the instructional manual that was included inside the box.
What do I do if my toothbrush is not functioning properly?
Oh no! If you are experiencing a mechanical malfunction with your Triple Bristle toothbrush handle or charging base, please file a warranty claim.
Submit a warranty claim, here. Please use the SAME email you used when you placed your order.
After submitting your claim, check your email for further instructions.
Can I use the Triple Bristle toothbrush while bathing?
We do not recommend using any of the Triple Bristle Toothbrushes while showering or bathing. Additional information available inside the instruction manual that came with your toothbrush.
How do I change the brush head on my Triple Bristle toothbrush?
To change your brush head, hold the handle in one hand and grasp the brush head in the other. WITHOUT TWISTING, pull the old head straight off. As long as you are pulling straight, you cannot pull hard enough to damage the product; twisting during removal WILL damage the pin that holds your brush head in place.
If you are still having trouble removing the head, toothpaste build up might be trapped in the space where the bottom of the brush head meets the handle, creating a seal. Rinse the area where the brush head meets the handle under warm water for about thirty seconds and try to remove the head again.
Why does my toothbrush pause every so often while I am using it?
Each Triple Bristle toothbrush was designed to brush your teeth in quadrants. Each sonic handle has a built-in 2 minute auto timer. The sonic vibration will pause every 30 seconds so you know when to switch positions. Dentists and Hygienists recommend brushing your teeth for a full 2 minutes, which the Triple Bristle handle automatically times for you.
However, if you want to save time, use the Triple Bristle toothbrush for at least 40 seconds, making sure to get all tooth surfaces. If you choose to go this route, ignore the vibration pause and count to ten while brushing each quadrant of your mouth. Since the Triple Bristle brush head totally encapsulates your teeth (basically gives them a hug), it allows you to take less time brushing because you are brushing all sides of your teeth at the same time.
Help! I can't get my brush head off.
Over time, toothpaste can build up in between where handle and the brush head meet. If this happens, try running that area under warm water. Then, simply pull (DO NOT TWIST) off the brush head with one hand and hold onto the handle with the other. To put a new brush head on, align the brush head bottom hole to the handle stem and push down firmly.
Where do I register my Triple Bristle toothbrush warranty?
We ask our users to register their Triple Bristle Toothbrush in the event something were to happen to the mechanics of the sonic handle and/or charging base, we have your information. We never want you going without a working toothbrush.
Register your Triple Bristle toothbrush here
Please Note: If you do not activate the warranty on your product within 30 days of the purchase date, any warranty claim thereafter will be null and void.